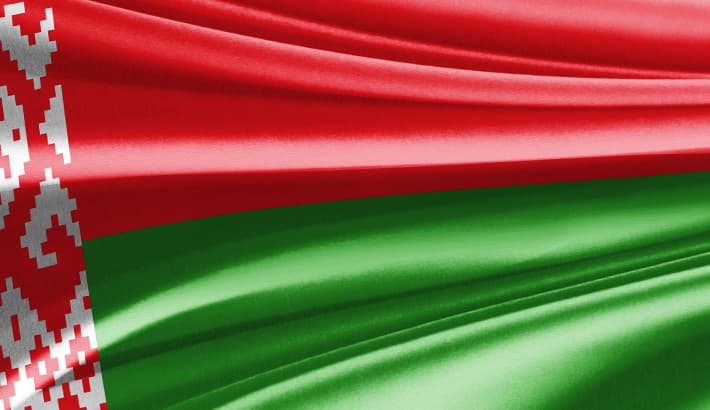 Shipping from USA to Belarus is currently unavailable!
Meest-America delivers parcels to Belarus by sea and by air to the address of the recipient.
In order to make shipping parcels easier for our customers, we have created a Meest Portal. Our portal is a website we developed to elevate your customer experience by offering a variety of user-friendly amenities.
If you register, you can start enjoying these time-saving benefits:
Estimate shipping costs.
Fill in shipping information, and CN23 customs forms – all online.
Locate nearest Meest agent or FedEx drop-off location.
Examine shipped packages information.
Review payment history.
Create a database for your regular recipient shipments.
For customers who live in the U.S.:
Maximum customs value without additional import duty - 22 Euro per shipment and total 200 Euro per month.




Maximum weight of a parcel without having to pay additional import duty - 22 lb (10 kg) per shipment and 66 lb (30 kg) per month.




Any measurement of a box cannot exceed 105 cm (41 inches);




Every parcel is insured with the company for $60.00. Any additional insurance will cost you 5% of the insured value;




If your region does not have a Meest-America representative, please call 1-800-288-9949 or send us an e-mail to order prepaid FedEx label, customs form CN23 and instructions for delivery to our office in New Jersey.
Small packages and letters
Territory
Estimated Delivery Time
Weight
Price

The entire territory of Belarus




2-3 weeks




up to 0.5 lb.

$33.00

1 lb.

$35.00

2 lb.

$37.00
*If you use our prepaid FedEx label for delivery to our office in NJ additional $10 will be applied.
Territory

Sea Parcels
Air Parcels
Price/lb
Delivery
Estimated Delivery Time
Price/lb
Delivery
Estimated Delivery Time

The entire territory of Belarus

$1.49

$20

6-7 weeks

$2.89

$20

2-3 weeks
*Prices shown above do not include the cost of delivery to the Meest-America office in NJ, pick up at the address or additional packing cost. Minimum chargeable weight of a parcel is 10 lb. The terms and rates are applicable to parcels shipped by sea and air from Meest-America's location in NJ or its agents who transfer parcels to Meest-America's drivers for shipping and final delivery.
Rates and transit time (with FedEx label)
Territory
Sea Packages
Air Packages
Price/lb
Delivery
Estimated Delivery Time
Price/lb
Delivery
Estimated Delivery Time

The entire territory of Belarus

$1.59

$25

6-7 weeks

$2.99

$25

2-3 weeks
FedEx rates shown are calculated for regular size packages. Regular sized packages have the following dimensions: the largest side should not exceed 48 inches (120 cm); second-largest – 30 inches (75 cm); and the maximum physical or volume weight should not be greater than 66 lb (30 kg). For bigger packages you will be charged more.

*Maximum weight of a parcel using FedEx prepaid label - 22 lb (10 kg). Cost of shipping via FedEx from Western States of the U.S. is different. Estimated Delivery Time starts from the day of shipping from the U.S.
Deliver to us through FedEx
How to deliver your parcel to Meest-America's office?
If you are located in a distant state where Meest trucks do not pick up packages, and there are no Meest representatives nearby, you may conveniently ship your boxes to our office in Port Reading via FedEx. We have an agreement with FedEx which is why we can offer you better prices.
In order to have your parcel delivered to Meest-America's office in Port Reading, NJ please:
Register and/or Log in

meest.com/portal

.

Following instructions, type in all requested information.
Print required labels – CN23 customs form and FedEx label.
Take the package(s) to the nearest FedEx office or give to driver working in your area.
FedEx representative will accept the parcel from you at no charge when they see their FedEx label on it.
You're all set – now you can easily track your shipped parcel from our website!
For customers who live in Belarus
Terms and conditions for delivery of goods from U.S. online stores can be found here
To determine the cost of shipping, the greater of the actual weight or dimensional weight is utilized.
The following is the formula for the dimensional weight in lb
Length (inches) x Width (inches) x Height (inches) / 139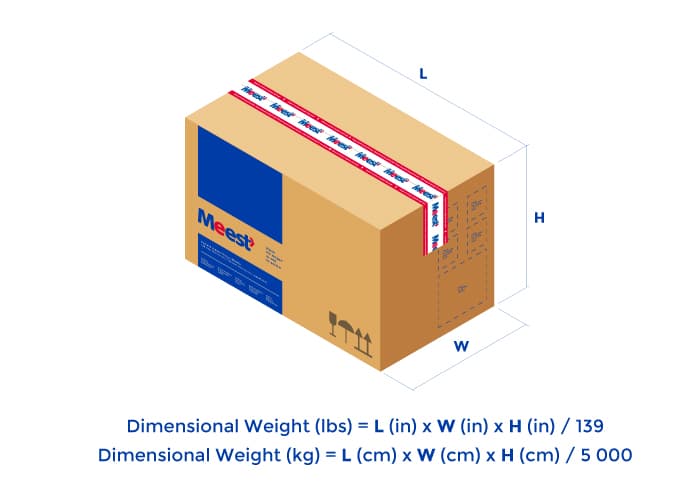 A separate

CN 23 customs declaration

must be completed for each parcel and must be signed by the sender. Use this form to enter description of goods, their quantity, and total value of the contents of the parcel. When filling out the declaration, be specific. Don't use general wording such as "clothing", "used items", "humanitarian aid", "souvenirs", "hardware", "food products", etc. Please write the full

actual contents

of the parcel, including

specific items.

You must place a

number

in the

"Quantity"

column next to the name of each item in the declaration, for example: jackets - 2, pants - 3, etc.
IMPORTANT: All parcels must be addressed to actual recipients residing at the indicated addresses. All packages addressed to fictitious recipients or addresses will be confiscated by customs.


Meest-America has no influence on the decisions made by customs nor is responsible for these decisions.
Meest-America Inc. will not provide service to any person or entity that is directly or indirectly involved in the financing, commission or support of terrorist activities or in the development or production of nuclear, chemical, biological weapons or in missile technology programs as specified in the U.S. Export Administration Regulations (15 C.F.R. part 744).
Meest-America Inc. will not provide service to persons and/or entities identified on: (1) the U.S. Department of Commerce Denied Persons List, Entity List of proliferation concern, or Unverified List; (2) the U.S. State Department Debarred Parties List; or (3) the List of Specially Designated Nationals maintained by the U.S. Department of the Treasury's Office of Foreign Assets Control.
The Department of Commerce and The Department of State provide the list of article which require an export license. Please, follow the following link for detail information
Regulations
A key in determining whether an export license is needed from the Department of Commerce is knowing whether the item you intend to export has a specific Export Control Classification Number (ECCN). The ECCN is an alpha-numeric code, e.g., 3A001, that describes the item and indicates licensing requirements. All ECCNs are listed in the Commerce Control List (CCL)

Fraud Prevention
Meest-America Inc. will use reasonable best efforts to prevent any fraudulent use of Meest-America Inc. service. Meest-America works diligently to prevent credit card fraud and cancels any accounts engaged in such activity and returns the merchandise to the merchant. Meest-America requires documentation to ensure against fraud, such as requiring copies of identification and credit cards. Meest-America's customers are solely liable for accurately providing all information required by United States' laws and regulations, including information on the value or export classification of merchandise, and for maintaining all records as required under law. Civil or criminal penalties may be imposed by the U.S. Government for making false or fraudulent statements with respect to this information.Customs authorities of all countries pay special attention to the correct completion of customs declarations, CN23, and an "Individual Waybill" as well as to the availability of enclosures of commercial character and items prohibited to import. Correct filling of accompanying documents and registration of parcels in strict accordance with these regulations will ensure their timely delivery
Parcels delivered to our warehouse are insured free of charge for the amount of $60 or $3 per kg. Any additional insurance will cost 5% of the insured value.
Prohibited items in international packages
Firearms, signal guns, air guns, gas arms, ammunition, cold steel arms (including throwing weapons), electric shock devices and spark gaps, as well as parts of those weapons;




Weapon Parts & Accessories;




Narcotics of any origin, psychotropic substances;




Radioactive substances;




Gunpowder, explosive, corrosive, flammable and other hazardous substances;




Drugs, food supplements, vitamins;




Animals and plants;




Seed;




Food, alcoholic beverages, cigarettes, tobacco;




Human remains and organs;




Antiques;




Jewelry, precious metals and stones;




Works of art;




Cash and cash instruments in any form: money orders, checks, vouchers, securities, bonds, coupons, promotions, credit cards;




Postage stamps;




Products and publication of obscene content, pornography of any kind;




Items prohibited by the World Association of Transport.




Items which require export licensing by the State Department or Commerce Department must be accompanied by a license




Items that may pose a risk to workers, transporting parcels, soil or damage other items and equipment by their nature or packaging.
Restrictions for packages shipped on airplanes
Bengal lights and fireworks;




Gases in any package, including pepper and tear gases;




Flammable liquids, perfumes, colognes, nail polishes, etc.;




Any fuel and empty containers from it;




All paints and its solvents;




Radioactive materials;




Corrosion inhibitors;




Pipe cleaners;




Oxygen-rich substances;




Containers with aerosols;




Cylinders for scuba diving;




Tanks for propane;




CO2 tanks;




Arms and ammunition;




Gunpowder;




Dry ice;




A tool that runs on fuel;




Lighters and its filling;




Matches;




Rechargeable batteries, power supplies, batteries;




Alcohol-based agents, perfumes, nail polishes and hair;




Alcoholic beverages;




Absorbers, and other used spare parts or containing lubricating fluids and materials.
Welcome to Meest website!
We noticed that your region has changed.
Would you like to be transferred to the local country page?
Please consent to the processing of your personal data